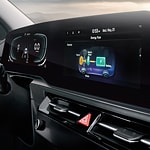 The 2023 Kia Niro EV has a lot going for it. It's going to be able to attract attention from Montpelier customers because of its efficiency, and it also should be able to win over people with its advanced technology.
All of the Niro EVs at Preston's Kia feature dual screens that measure 10.25 inches. This gives you access to so much information and makes it feel like you're in a totally digital cockpit. Directly in front of the driver's seat, there's a digital information screen. It can keep you aware of performance data and vehicle stats, and it can also help you track your range.
The other screen is located towards the center of the dashboard. It comes with integrated navigation, can be used to control various vehicle programs, and gives you access to a variety of entertainment. SiriusXM, smartphone compatibility, and wireless charging are all standard, and you'll get to have multiple charging ports, too.